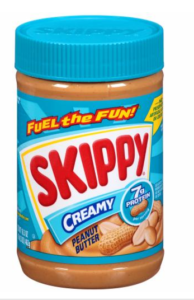 Wow – time to stock up on peanut butter! We like to make tons of things from sandwiches to cookies with peanut butter! I'm super excited about this deal, especially because we have a coupon! Just in time for back to school! We have a new B5S5 Mega Sale 7/26-8/8. Buy any 5 mega items (can mix and match participating products) and save $5 instantly!
Skippy Peanut Butter, $.99 (wyb 5 mega items)
use $.55/2 Skippy Peanut Butter products printable here
Pay $.72 each!